Some people may not realize that the cleanliness of your carpeting can actually have a dramatic impact on the overall air quality inside the home. The truth of the matter is that there can be a whole lot of grime, dirt, bacteria and other allergens that will get hidden deep down within the fibers. Every person who walks through the home and moves their feet along the carpeting can bring up a lot of the dust and hidden particles that are lurking below. While regular vacuuming is a great way to get up some of the surface dirt, you are still rarely able to pull all of the dirt and grime up.
Having the professionals clean your carpet like us at Stevenson's, we will rid your home of those bacteria and germs that plague the carpets. With regular carpet cleanings, you are going to find that people living within your home are going to be able to breathe easier and have an overall better experience with some of the allergies that they may have been dealing with in the past.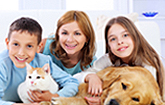 If you have pets in your home or you have had some spills or stains on your carpeting, you may also be harboring a lot of odors that you do not even notice. There can be a lot of pet dander that will build up under the surface area of your carpeting. Professional carpet cleaning will pull out all of the pet dander and the odors that you may have and make it so that you are surrounding by air that is fresh, clean and free from a variety of pollutants. Overall, you are going to find that the benefits of professional carpet cleaning are truly endless.